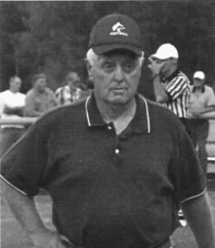 The veteran high school football coach began his long prep coaching career at Beaverton where he went 13-14-5, before going to Freeland High School where he chalked up an 18-5-1 record. The Oscoda native moved on to Douglas MacArthur High School where he was the head junior varsity coach for two seasons before becoming the head varsity coach. Skillman guided the Generals to an overall record of 139-68-0. His 1975 MacArthur team made it to the state finals – the first year the high school playoffs were held – but the Generals suffered a 21-0 loss to Dearborn Divine Child in the Class B finale. Two years later they made it to the state championship game once again before losing to Jackson Lumen Christi, 17-16.
Skillman also coached wrestling at MacArthur for 15 years and compiled a record of 152-129-5 and four White Pine Conference championships. When Douglas MacArthur merged with Dwight D. Eisenhower to form Heritage High School, Skillman was at the helm for the Hawks who were 23-20 in his four seasons. From there Skillman served as an assistant coach at Alma College for four years before returning to the high school ranks where he was 52-22 in seven seasons at Merrill High School. Skillman moved on to Arthur Hill High School as an assistant coach for two years and then as an assistant at Hemlock High School for one year. He coached three seasons at Bridgeport High School (4-23) and one and a half years at Atlanta (6-9) before accepting the head coaching position in 2012 at Breckenridge High School. Along the way he's had seven undefeated seasons (1961, '77, 78, '80, '81, 2000, 2002), and made the playoffs 10 times. Skillman was Regional Coach of the Year nine times (1975, '77, '78, '80, '81, '85, '99, 2000, 2002), while being named Class B Coach of the Year in 1977.
He was elected to the Michigan High School Football Coaches Hall of Fame in 1981. Skillman has coached high school football for 55 years, 45 as a head coach. His career varsity record is 255-161-6 ranking him in the top 20 all time in state history.