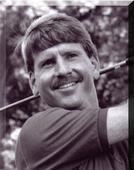 *Arguably one of the finest golfers to ever tee it up in Saginaw County.
*A four-year performer at Dwight D. Eisenhower High School, Brady won the 21-club championship two years in a row.
*He went on to Saginaw Valley State College where he was named All-America in 1980.
*His lengthy list of accomplishments include being a three-time medalist at the U.S. Open local qualifier, and a medalist at the U.S. Open Sectional qualifier in '87.
*He played in 10 Buick Opens and was the medalist in the Buick Open qualifier four times. He was named Michigan's PGA Player Of The Year in 1995 and set the PGA tour record for a 9-hole score of 30 at the 1984 Buick Open.
*Brady played in the U.S. Open championship in 1984 at Winged Foot and three PGA championships.
*He is a two-time Michigan PGA champion and a three-time Michigan Open champion.