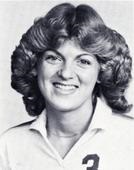 The 1979 graduate of Bridgeport High School was chosen to the All-White Pine Conference first team for two consecutive years in volleyball and was the squad's MVP as a senior. She also attained all-Saginaw County honors her senior year. Phillion-Dulude earned National Honor Society accolades and her sports accomplishments led her into that school's Hall of Fame. She was heavily recruited and accepted a full
scholarship to Central Michigan University – the first female ever offered a scholarship at that school. She earned All-Mid-American Conference honors in volleyball four straight years and was named MVP of the MAC tournament as a freshman. In her senior year she was CMU's co-captain. In 1980 she was named All-Midwest First Team and All-State. Phillion-Dulude helped lead the Chippewas to a four-year record of 171-44-10, including a mark of 54-14 in 1981. CMU won two state titles along with a second-place finish in the MAC in 1982. She also played on the 1982 Junior Olympic Volleyball team. Phillion-Dulude still ranks in the top five in two career categories: kills
(1,265) and total blocks (437) and is in the top five in two single-season stats – kills (494) and hitting percentage (.389). She went on to coach volleyball at the high school level for four years. In October of 2001, she was inducted into the CMU Athletic Hall of Fame.