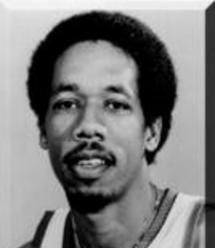 Probably one of the finest shooters to ever come out of Saginaw. The three-year starter on Saginaw High's varsity cage team averaged 23.3 points and nine assists his senior season. 
He was the SVL East Division's MVP and the slender 6-1 guard finished his career with 1,287 points.
Tony did not stop there. He was all-league, all-area, all-state, all-American and was named the state's top player (the predecessor to the Mr. Basketball award) by UPI.
After being contacted by over 400 colleges, the crowd-pleasing long-range shooter chose the University of Houston.
After his freshman season he transferred to the University of Nevada-Las Vegas. He would go on to become one of the Runnin' Rebels' finest players, averaging double figures the next three years.
Following his junior year, the Cleveland Cavaliers drafted Smith, but he came back for his senior season to co-captain UNLV.
After averaging 17.1 points his final season, he was drafted by the New Jersey Nets but was released.