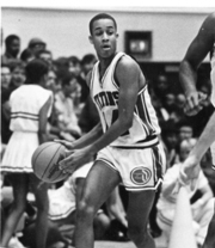 Archie Tullos got started in athletics at an early age when he was crowned the one-on-one basketball champion in the sixth grade at Heavenrich Elementary School. At North Intermediate Junior High he lettered three years (1978-81) in football and basketball. Tullos went on to play basketball at St. Mary's Cathedral High School for two years (1981-83), attaining first team All-State honors in Class D his junior season when he averaged 25.0 points-per-game. He then transferred to Buena Vista High School for his senior season and earned first team All-State laurels in Class B when he averaged 30 p.p.g. The Knights finished runner-up in the Class B state finals and Tullos finished eighth in the Mr. Basketball voting.

He was named one of the top 10 players in the state of Michigan by USA Today. Tullos accepted a scholarship to the University of Detroit where he played from 1984-88. Along the way he was named to the Horizon League's All-Freshman team in 1984-85, while earning second team honors in '86-87 and was a first team selection one year later. During his senior season Tullos finished second in the nation in free throw percentage (90 percent) and ninth in scoring with a 26.0 average as the Titans finished runner-up in the conference finals. He owns two Horizon League season records by leading the league in three-point shooting percentage with .481 (63 of 131) in 1986-87, while sporting the top free throw percentage with .908 (139 of 153) in '87-88. During his senior year he set a Calihan Hall record by pouring in 49 points in a game against Bradley, which is fourth all-time in the Horizon League. Other league marks include being second in career free throw percentage (.881), fifth in single game field goals (18 versus Bradley), sixth in single-season field goals with 286 in '87-88, ninth in season free throw percent with .908 ('87-88) and 10th in single-season scoring.

In the summer of 1988 he played for the Jacksonville Hooters in the United State Basketball League while also playing for the Houston Rockets in the NBA Summer League. He was the first pick in the second round (13th overall) of the Continental Basketball League's Rapid City Sizzlers. Tullos also played for the Calgary 88's in the WBL in the summer of '89 and played for the Atlanta Hawks in the NBA Summer League.