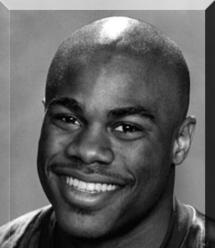 He played basketball, football and ran track for Arhur Hill but the 5-10, 195 pounder was a stellar two-way performer on the gridiron for the Hills for three seasons. He earned a scholarship to Central Michigan University where he toiled on special teams his first two years.
Pruitt racked up yards – and headlines – in his junior and senior seasons.
He rushed for 356 yards in a game against Toledo, which established CMU, MAC and stadium records.
His five touchdowns tied Central Michigan and MAC standards,
while his 435 all purpose yards were team, conference and stadium records.
In his senior season (1994), Pruitt rushed for 1,890 yards and racked up 22 TD's to set CMU and MAC records – earning the conference's MVP honors as well as being named first team All-American.
He signed as a free agent with the Atlanta Falcons in 1995 but a neck injury forced him to end his grid career.
He still holds CMU records for rushing yards, touchdowns and points scored in a season.