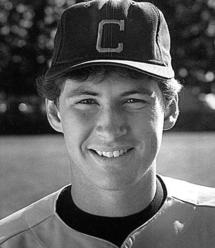 The 6-foot-4, 215-pounder was a three-sport standout at Bridgeport High School where he excelled in football, basketball and baseball for the Bearcats. He got started in baseball at an early age and played for the Bridgeport Green Hornets' 15 & under Knothole state championship team in both 1978 and '79 as
Fisher was the winning hurler both seasons. He played a multitude of positions for Bridgeport High and was named to the all-state baseball team three times. He turned in an excellent junior year in 1981 when he was named first team Class A-B All-Area by the Saginaw News while earning All-State second team honors from United Press International after hitting .439 with 11 home runs and 42 runs-batted-in. On the mound he was a perfect 7-0 with a 0.28 earned-run-average. As a senior he pitched a no-hitter ersus Buena Vista and batted .630 for the season to be named All-WPC, All-Area and earned All-State first team honors. In basketball the Bearcats' co-captain was an All-White Pine and All-Area selection and an honorable mention Class A all-state performer after averaging 16.3 p.p.g. Fisher received a baseball scholarship to Central Michigan University and would go on to become one of the finest hitters in Chippewa history from 1983-86. He is listed in the top 10 in 27 season and career records. He helped lead Central Michigan to three Mid-American Conference titles from 1984 to 1986. Fisher was twice named to the All-MAC team and made the All-Region team in '86. In his junior year he hit four home runs in a doubleheader against Ball State to break a Chippewa record while collecting nine runsbatted-in. As a freshman he hit .388. During his junior year he hit. 420 with 13 homers and a .709 slugging percentage. His career stats in 195 games at Central Michigan include 95 extra base hits, a .709
slugging percentage, 414 total bases, 229 hits, 46 doubles, 41 home runs and 181 RBI. He concluded his career as the holder of eight CMU career records. His marks for extra base hits and slugging percentage still stand and he currently ranks in the top three all-time in four other categories. Fisher was drafted by Houston in 1985 (29th round) as a junior and by the Pittsburgh Pirates in the 17th round as a senior. He spent the summers of 1984 and '85 with the Cape Cod League's Falmouth Commodores. His '84 season is considered one of the top individual hitting seasons in league history as he tied the RBI record with 54 which still stands today. Fisher was named to the league's 1980's All-Decade team. Fisher was inducted into Central Michigan University's Athletic Hall of Fame in 1999 and the Cape Cod League Hall of Fame in 2011.