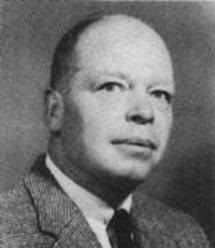 Joseph Patrick Hart was born August 30, 1918, in Saginaw. After graduating from St. Andrew's High School, he attended the University of Notre Dame  where he graduated in 1940. While at Notre Dame he was the football manager and worked with two of the most famous coaches – Elmer Layden of Four Horseman fame and Frank Leahy. Hart then served in the U.S. Army during World War II. He started his full time newspaper career in 1944 at the Middletown Times Herald in New York. He then moved back to Saginaw to help his ill father manage the family business, the Fred C. Hart Coal Co. At the same time he wrote for The Catholic Weekly and worked part-time for the Saginaw News. Hart joined the Saginaw News as a full-time sports writer in 1950 and was named sports editor in 1959. Hart was appointed executive sports editor in 1969 and retired in August of 1973 after a stellar 23-year career with the newspaper. His nickname was "Injun Joe" because he had written several stories in Indian dialect – the first story was about a high school athletic contest involving Pontiac Central. He had his own
style which flowed rhythmically and his leads to stories always captured the high point and the key to the event. What most people don't realize is that he'd write columns and have to work with the deadlines, and then physically set up the headlines and articles. He later would head back to work with the printers who would have to set up the line sets for the big printing machines. One of his local loves was the Saginaw District Golf Association tournament – one of the most prestigious golf events in Saginaw. It was Hart's vision behind its inception in 1955 and he was actively involved in the association through the 22nd annual event. He served as the official starter of the District tournament, announcing the names and club affiliation of each golfer. Hart was active in the Notre Dame Alumni Association, the Knights of Columbus Council No. 593, and was past president of the Michigan Sports Editors Association. The
veteran newspaperman helped shape the careers of Saginaw News sportswriters Jim Buckley, John Pozenel, Jim McGovern, Joe Walker, Duane Lancaster and Dick Wood. He passed away June 16, 1976, at the age of 57 and is buried at Mount Olivet Cemetery.