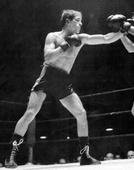 Mickey Crawford was born March 11, 1934 in Saginaw and he began fighting as an amateur at age 15. He won the Bay City Golden Gloves in 1949, '51, '52 and '53. Crawford won the Grand Rapids State Golden Gloves in both 1952 and '53 while also winning the All-Michigan AAU title in 1953. After graduating from Saginaw High School he joined the Army and won the Army Pan-American title in 1955.
Crawford turned professional in 1955 and the 147-pound welterweight recorded a 23-5-1 record. In 1958 he fought seven times on national television – the most by any fighter at the time. He fought Casper Ortega, the No. 1 contender for the welterweight championship – losing once and fighting to a draw a second time. Both fights were at New York City's Madison Square Garden. Crawford, who was trained by legendary trainer Angelo Dundee, fought five former champions – Paddy Demarco (won), Ralph Dupas (lost), Wallace Bud Smith (won), Gil Turner (won) and Tiger Jones (lost). In 1953 he beat Kenny Lane who later became lightweight champion of the world. In 1958 Crawford was rated No. 5 in the world by legendary boxing writer Nat Fleischer of Ring Magazine.
On January 11, 1959, he was on the cover of the Detroit Free Press Roto section (now called Parade Magazine). He fought 100 times in his career, winning 87 times before retiring in 1959. He currently resides on Saginaw's eastside.