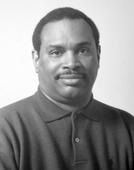 Norwaine Reed prepped at Detroit Southwestern High School where he earned all-state honors in basketball his senior season. The hard-driving 5-foot-9 guard became an All-American basketball player at Saginaw Valley State College when he averaged 30 points-per-game. He graduated in 1972 and currently is fourth overall in career scoring with 1,645 points. Reed is also third in field goals (656) fourth in free throws made (333) and seventh in career rebounds (612).
He had a tryout with the Chicago Bulls but opted to work with youngsters as a Juvenile Parole Officer in Saginaw. His coaching career actually began at Saginaw Valley where he helped former coach Gary Apsey and was later hired as an assistant under coach Bob Pratt.
Reed began his high school coaching career at St. Mary's Cathedral where he compiled a 125-43 record from 1976-82 for the Class D school. In 1983 Reed moved on to Buena Vista High School and he led the Knights to four Class B state championships (1985-86, 1988-89, 1991-92 and 1992-93). Buena Vista was also runner-up three times. The Knights never won less than 17 games a year while he was at the helm and his teams once won 55 consecutive games over a two-year span – a Saginaw County record and the fourth most in state history for boy's teams. Reed's career record in 22 years coaching is a superb 346-79 (.814). Along the way Buena Vista won 10 district championships, eight regional titles and four state championships.
No other boys coach in Saginaw County has won more state titles than Reed. He retired from coaching in 1995 and still lectures all over the country on mentoring programs. He also participates in different mentoring workshops for Delta College and helped write a book, "The Sport of Learning."