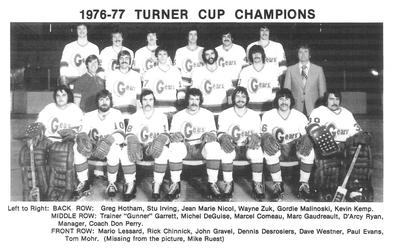 SAGINAW GEARS HOCKEY TEAM (1976-77)
During the 1976-77 International Hockey League season, the Saginaw Gears – in just their fifth year of existence – captured the Turner Cup championship. During the regular season they had 40 wins, 27 losses, and 11 ties. The Gears won the Fred A. Huber Trophy, awarded annually by the IHL to the North American hockey  team with the most points during the regular season as they finished with 91 points. On home ice at Wendler Arena they were a remarkable 27-8-4 and on the road 13-19-7. In the first round of the playoffs, the Gears beat Muskegon four games to three. In the second round, they beat Kalamazoo four games to one. In the championship round, Saginaw defeated Toledo four games to three to win the Turner Cup title. Their two leading scorers were Paul Evans with 50 goals, 62 assists for 112 points and Dennis Desrosiers with 46 goals and 50 assists for 96 points. They had plenty of scoring help as Rick Chinnick tallied 70 points (37/33) and Dave Westner (35/29) and Wayne Zuk (24/39) had 64 and 63 points, respectively. Stu Irving wasn't far behind with 60 points (23/37), while Marcel Comeau tallied 59 points (27/32) and D'Arcy Ryan notched 56 (24/32). Mario Lessard was the number one goalie for Saginaw and allowed 144 goals on the season for a 3.47 goals-against-average. The 1976-77 team established three team records: Fastest two goals (two seconds), most goals in one period (eight), and the most power play goals in one season (67). Other team members included Mike Ruest, John Gravel, Greg Hotham, Gordie Malinoski, Kevin Kemp, Jean-Marie Nicol, Michel DeGuise, Marc Gaudreault, Tom Mohr and Gary Sittler. Don Perry was the head coach, Gunner Garrett the trainer, and Wren Blair the general manager.
Two members affiliated with this team have already been inducted into the Saginaw County Sports Hall of Fame. Right winger Dennis Desrosiers was inducted in 2006 and General Manager Wren Blair was inducted in 2007.