THE NOUVEL CATHOLIC CENTRAL STATE CHAMPIONS HIGH SCHOOL BASKETBALL '86-87, '87-'88, '89-'90, '90-'91.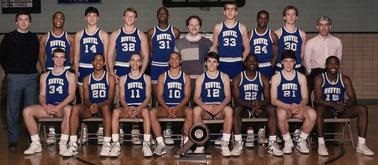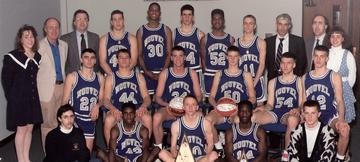 Nouvel Catholic Central Boys State Basketball Champions 1987 * 1988 * 1990 * 1991
The Nouvel Catholic Central varsity basketball team became the first boy's team from Saginaw County to win back-to-back state championships. They eventually won four state titles in five seasons with a combined record of 94-16. The Panthers, under coach Jim Carideo, captured its first state title in Class C in 1986-87 when they defeated Benzonia Benzie Central 72-59. They finished with an overall record of 24-3 on the season. The next season (1987-88), Carideo's Panthers defeated Roscommon to cap a 25-3 season and its second consecutive Class C title. Joe Ricard took over for Carideo and two years later (1989-90) Catholic Central wound up in the state championship game against Ishpeming, coming away with a 78-59 victory. NCC finished the season with a 24-4 mark. The Panthers made it four titles in five years when they captured the 1990-91 championship when they toppled IronRiver-West Iron County 51-37. Nouvel finished the season with a 21-6 record.