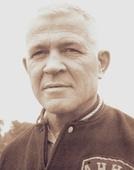 Hi Becker was a Bridgeport native and a standout tackle for three years at Saginaw High School. The 6-foot-5, 250-pounder was the Trojans' captain in both 1936 and 1937, while attaining all-Saginaw Valley League honors his senior year. Becker was recruited by Northwestern but chose Central Michigan College where he captained the freshman team. Central Michigan was 18-5 during Becker's three years on the varsity and he was co-captain his senior season in 1941.
Following his collegiate career he signed with the Detroit Lions and made the team but a back injury prematurely ended his playing days. Becker then began his stellar high school coaching career in at Chesaning. He then moved to Ithaca from 1943-47, before putting Cadillac on the map during his tenure from 1948-60. While at Cadillac, his teams won the Class B State Championship in both 1951 and '58 as both squads turned in spotless 9-0 records. His teams won 26 consecutive games over four years and Cadillac was 62-35-4 in his 12 years at the helm. He also coached Cadillac to a state championship in track. From there Becker went to Bay City Handy in 1960 and the Wildcats, who just became a member of the Saginaw Valley League, captured the Class A state title one year later with a 7-0-1 mark. He returned to Saginaw to lead Arthur Hill High School to two Saginaw Valley League crowns in five years. His record for the Lumberjacks was 25-13-2 and his 1964 and 1966 teams were both 8-1. In 25 years of coaching his overall record was 122-80-12 and he was twice named Michigan Coach of the Year. Becker won 10 conference titles and had seven undefeated seasons.
He was inducted into the Michigan High School Coaches Hall of Fame in 1984 and the Central Michigan University Hall of Fame in 1995. He has also been inducted into in the Cadillac Sports Hall of Fame while his Handy team is in the Bay County Sports Hall of Fame. Becker passed away June 3, 2003, at the age of 84.