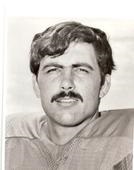 The 6-foot-6 236-pounder was a talented athlete in football and basketball at Chesaning High School. He was named second team All-State (AP and UPI) in football in 1967 after leading his team to a perfect 9-0 record. Beckman was first team Class C All-Area in basketball in 1968 while also earning All-State honorable mention honors from both the AP and UPI. He averaged 20.2 points and 1 8 rebounds a game to lead his team to a share of the Mid-Michigan-B championship with St. Louis. He led the Indians to a 15-1 regular season record and into the state quarterfinal against eventual state champion Willow Run.
After graduating in 1968 Beckman received 46 scholarship offers for football and basketball from throughout the nation. He chose the University of Michigan where he eventually grew to 6-foot-7 and 250-pounds and he became a two-year starter at defensive tackle under head coach Bo Schembechler. Beckman played in the 1972 Rose Bowl game the Wolverines lost 13-12 to Stanford on a last second field goal. He was a third round draft choice of the St. Louis Cardinals.
His pro football career was hampered, however, when he suffered a knee surgery in an exhibition game against Buffalo his rookie year in 1972, followed by a broken foot the following year. Beckman later starred in the World Football League as a defensive lineman with the Memphis Southmen. He went on to a very successful business career with General Motors Corp. where he is in charge of new vehicle launches.