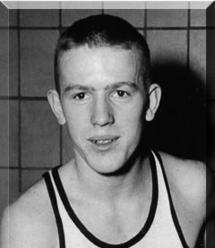 Played football and basketball at Arthur Hill High School where he graduated in 1956.
He played three years of varsity football and basketball for the Lumberjacks, but it was on the hard-court where he truly excelled.
Lee was first team All-Saginaw Valley League in '56 and earned All-State honors the same season.
He went on to Central Michigan and was the Chippewas' leading scorer for three years (1958-60).
He became Central's first three-time MVP, and broke the school's scoring record his senior year.
Lee was all-NAIA for three years before playing five years for the Holland Oilers of the Midwest Professional Basketball League.
He went on to coach basketball at Marysville High School from 1962-68 and was named Coach of the Year in 1966.
He also coached basketball at Arthur Hill.